Overall Do's and Don'ts for Editing Web Pages
· DO let the WebFrame work for you by selecting the best Page Type that fits your needs for each of your web pages.
· DO use Page Types that automatically create links for you: Bulleted Link Uploads, FAQ, Multi-Option Link Uploads, Press Release, What's New.
· DO use consistent font style and size throughout your Word Docs to keep a professional look to your site. We recommend Arial or Verdana, size 10.
· DO use a Word doc to create introductory text or instructions, as appropriate, for page types other than the Word doc page type. Many of our page types allow you to use a Word doc in conjunction with the page type chosen, which is indicated by the Word doc upload toolbar. The Word doc is uploaded above the main content area. For example, you could choose a Photo Gallery page type, then upload a Word doc above it giving an introductory paragraph to the photos shown below.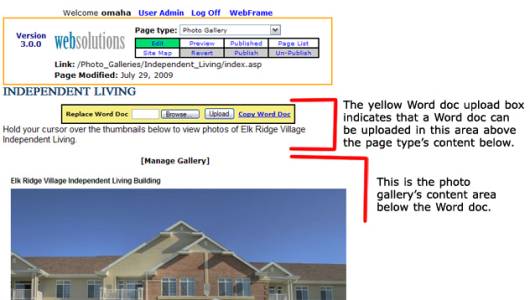 · DO check your web page titles in the browser title bar to make sure they say what you want.  You can control this text by using the Word Document File > Properties > Title (Word 97-2003 or older) OR File > Prepare > Properties (Word 2007 or newer) input box within the Word Document.  Use keywords in your titles to help your site get listed with the search engines.  If Title box is blank in your word document, then the default meta title will display.  The following illustration shows the browser title in the blue box: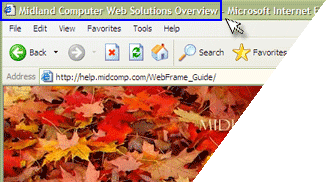 Learn more about Search Engine Optimization
· DO use the Preview mode in the control panel to view your page and test hyperlinks before publishing.
· DO NOT use Word to create forms - use the Contact Us page type supplied with your WebFrame.
· DO NOT place links within your Word Doc unless it is absolutely necessary. They are high maintenance and often times the target of the link is moved or deleted leaving the visitor to your site with a link that does not work.
Get additional Helps for Formatting Word Docs for the Web.