Our WebFrame is a powerful application created by Web Solutions Omaha that allows our clients to edit the content of their websites through an online interface.  There is no editing software to purchase and you do not need to know any programming or html to manage your website.
Our WebFrame was created in 1999 so you are assured it is well tested and rock solid.  It is composed of numerous Page Types that allow you to choose how each of your web pages will function.  We created these Page Types in response to our clients' requests.  Over the years we have added to and improved our Page Types to fit every need that has arose.
Our WebFrame can be installed inside any website skin.  The skin of a site is the overall design of the site or the "look and feel".  Our graphic designer can create a custom design for your site to your specifications, or we can use the skin of your existing site.
Once the design of your site has been decided and our WebFrame is installed, you are ready to add content to your site.  Or, if you have an existing site and want the content copied to your new WebFrame site, this service can be provided as part of your WebFrame purchase.
Your website consists of 2 areas.  In the illustration below - everything inside the red square is editable area and everything outside of the red square is the skin.
The skin of the site - the graphical look of the site, which stays consistent from page to page throughout the entire site.
The editable area of the page - the area of the page that you can edit through the WebFrame interface.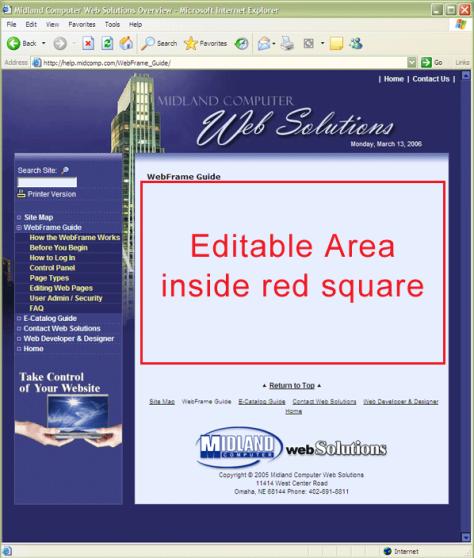 Your new website is hosted on our Development Server during the creation and staging period and then moved to one of our Public Servers when your new site is ready to go live.
All WebFrame purchases include training as well as 24/7 online access to this Help site.
Our ongoing customer service at Web Solutions Omaha is unmatched.  Many of our first clients from 1997 are still our clients.  We offer quick turnaround on projects and we do not sub out any of our work.  Our full time employees do all projects in-house.  We are here when you need us.
Please contact us with any questions.