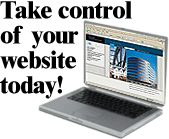 Welcome!
Web Solutions Omaha created the WebFrame after listening to our clients tell us what they wanted and needed from their websites:
· Client-editable page content and navigation
· Variety of editable page types
· No programming knowledge required
· Client-managed website administration
· Convenient online user guides
· Ongoing customer service and support
As our clients' needs change, we create new solutions to meet them. We believe our WebFrame offers our clients the best of today's technology at an economical price.
This help site is a work in progress. If you can not find the answers to your questions on this site, do not hesitate to contact us. We're always glad to help:
Web Solutions Omaha
Phone: 402-933-2160
Email: jkennedy@midcompweb.com