Changing the Text Formatting of Hyperlinks in Word
With your Word document open in the Microsoft Word  2007 program, go to the Home tab > Styles > [expand icon in lower right corner],

which will open the Styles pallet shown below. Click on the third icon at the bottom of the Styles pallet, Manage Styles.

This will open the Manage Styles pallet (shown below). Select Hyperlink from the list of styles to edit, then click the Modify… button: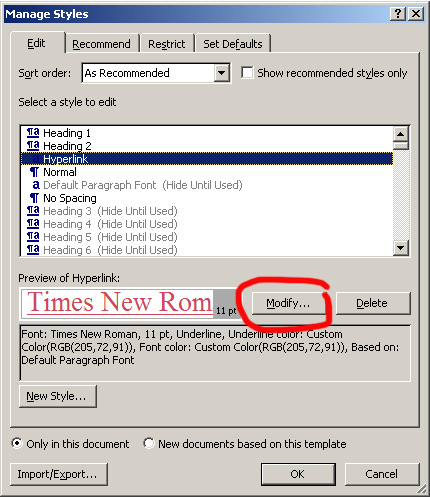 In the Modify Style window (shown below) under the Formatting section, you can adjust the font face, size, style, color, orientation and positioning. An example of the formatting selected will appear in the "Sample Text" area below the formatting options to give you a preview of what your adjustments will look like: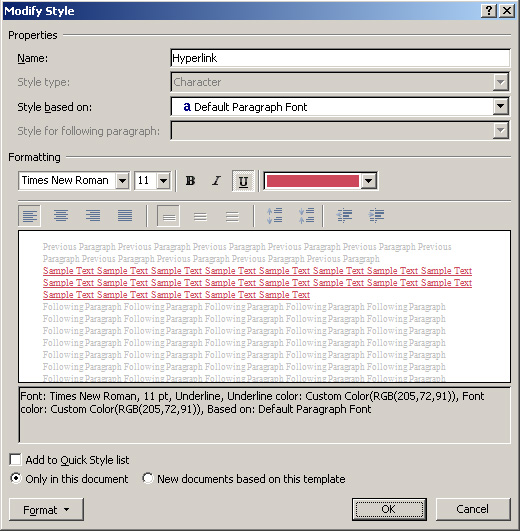 When finished, click OK. You should see the new adjustments applied to all hyperlinks in your Word document.
Note: The adjustment to the Hyperlink style will only apply to the current document you are working on.

A suggestion for more efficient work flow would be to create a sample page for your site, save as a template in Word, making sure the styles in the window above have the circle checked at the bottom of the window, "New documents based on this template". Going forward, you would create new Word doc pages for your site by starting with the Word template you have created, then saving a copy as a Word 97-2003 document (*.doc).