The What's New page type is often custom coded into the home page of websites and allows the web editor to feature newsworthy items on the home page of their site.  They can update the news items anytime they choose to keep their site fresh and up to date.
But this page type can be used anywhere within your site and does not need to be just for news items.  It has numerous other users - anywhere you want to have a thumbnail image, description and link to another page or file.  The example on this site shows how you might list new home models on a builder's site.
This page type creates a menu page with links to other EXISTING web pages or web files.  So before you create your What's New page you will need to create the pages or upload the files you want to link TO from this page (if they do not already exist).
The What's New page type allows the following options for each item listed on the menu page:
· Title (optional)
· Description (optional)
· Link (required) - How do I know what my link is?
· Photo (optional)
· Photo Alignment (left or right of the text)
· Photo Caption (optional)
· Photo Resize (optional)
· Option to have file or page you are linking TO open in same window or new window.
Here's a snapshot of the online interface for creating an item on your What's New page: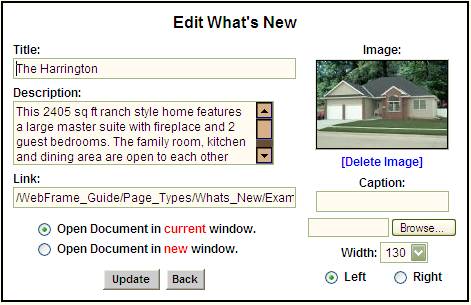 If you want to link from your What's New page to web FILES within your website, you must upload these files to your File Library.  The File Library is a storage area "behind the scenes" of your website that allows you to store files that you want your visitors to be able to access.
The menu of links in the What's New page can link to any active web address or web file.
Basic knowledge of html and hyperlinks is helpful for using this page type.