Meta Data Defined
Meta data (or meta tags) are used by search engines as one component to help categorize and index the content on your website. Meta tags consist of meta title, meta description, and meta keywords.
Meta Titles

and Meta Descriptions are used by search engines as the summary of your web page when it comes up in a search result.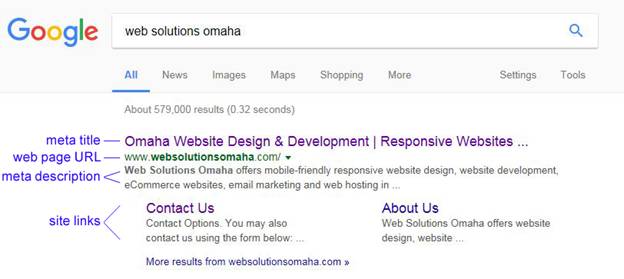 Meta Keywords

are generally ignored by most search engines, so they have become obsolete in this context. However, it is vitally important to utilize "keywords" throughout your site in your page content, Meta Titles and Meta Descriptions.
Choosing Good Keywords
You will want to start by creating a list of keywords to use throughout your website. It may be helpful to make an individual list for each page of your site.
Some resources to help you get started:
Tips to consider when creating your keyword list:
Include multiple forms of your product/services

- Along with using the specific brand name of your products and services, also choose keywords and/or phrases based on how your customer would think/search for your products/services if they aren't familiar with your brand. (ie: "content management system" or "editable website" along with the use of the product name "WebFrame")



Think of synonyms and acronyms of your major keywords

(ie: content management system, CMS, web management system, editable websites, editable web pages, etc.). This is where a good keyword analyzer or planning tool will be helpful.



Think of geo-specific words

pertaining to the area your business serves, only if it makes sense with your marketing plan (ie: Bennington, Elkhorn, Papillion, Omaha, Nebraska, NE).
Writing Meta Data
Once you have your list of keywords, you can now begin to create titles and descriptions for each page of your website, specifically targeting the content on that page.
Meta Title:
· Title should be short and descriptive, containing a 5-7 word phrase about that page. You may also include your company name and geographical information.
· Incorporate your top keywords in the Title - using the ones that best describe what that page is about. Remember, the title is the name of your web page that appears in the top bar of your browser window.

Meta Title Ex: "Website Design & Development | Responsive Websites | Content Management"
Meta Description:
· Meta Description can be up to 250 characters, but search results will only display up to the first 150 characters.
· Incorporate as many of your keywords as possible in the Meta Description that are relevant to the content of that page. A description can be a summary paragraph, or snippets of information.

Meta Description Ex: "Web Solutions Omaha offers mobile-friendly responsive website design, website development, eCommerce websites, email marketing and web hosting in Omaha, Nebraska utilizing WebFrame, our content management system (CMS) to create editable websites for businesses."
Implementing Meta Data
You are now ready to learn how to optimize pages on your website and optimize catalog items by uploading this information to each page on your website.
Does this seem overwhelming or too time consuming? We can help.
Web Solutions Omaha offers search engine optimization services. Contact us for a SEO consultation and recommendation.