The Employment Page is a simple, easy way to post employment opportunities on your website and allow visitors to your site to submit applications online.
You can upload as many job openings as you wish. A summary page is automatically generated with links to each job description page. The Job Descriptions are uploaded as Word Documents and will display the job description at the top of the page and a simple contact form below the job description.
The job applicant has the ability to enter his or her personal information, attach their resume, and add additional comments.  When the form is submitted from your site, the contents of the form and the Resume (if added) are emailed to the email address you have specified and will display the email subject line you specified.
Below is the edit screen you will complete for each job opening you want to post on your website. It has several options available.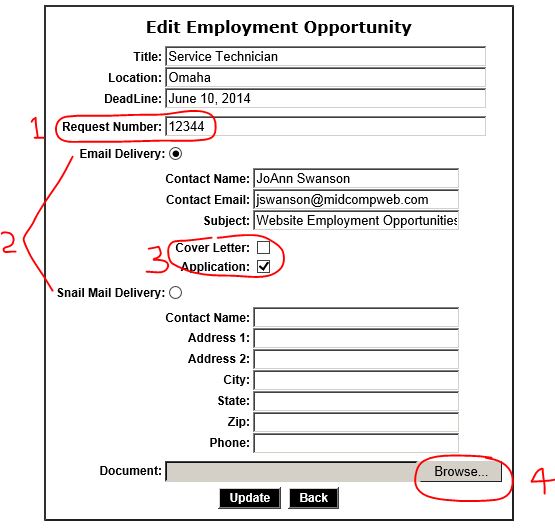 1) REQUEST NUMBER: (optional) Larger companies with many job openings often use request numbers to help identify each job opening. Leave blank if your company does not need this feature.
2) DELIVERY METHOD: Choose Email or Postal mail as your preferred choice for receiving job applications.
3) ATTACHMENTS: (optional) You can request that the applicant attach a Cover Letter and/or a Job Application.
4) JOB DESCRIPTION: Browse to your job description that you have prepared in Microsoft Word to upload it to the site.
5) PUBLISH:  Don't forget to publish the page after you have added a new job opening or edited an existing job opening.